Greening Libraries Wins Award in the 2013 Green Books Festival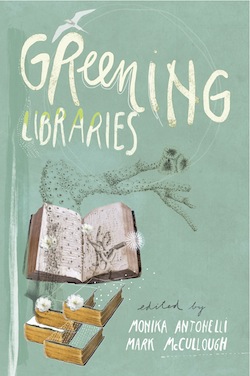 The 2013 Green Book Festival awarded its top honor in the category of Best Business Book to Greening Libraries, edited by Monika Antonelli and Mark McCullough and published by Library Juice Press.
Greening Libraries provides library professionals with a collection of articles and papers that serve as a portal to understanding a wide range of green and sustainable practices within libraries and the library profession. The book's articles come from a variety of perspectives on a range of topics related to green practices, sustainability and the library profession. Aspects of the growing "green library movement" covered include green buildings, alternative energy resources, conservation, green library services and practices, operations, programming, and outreach.
The Green Book Festival gives awards in a number of categories, as well as overall best and honorable mention awards, which makes it a useful collection development tool for librarians.