New book: Reference Librarianship & Justice: History, Practice & Praxis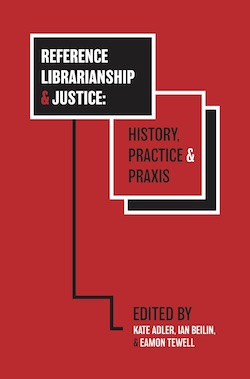 Reference Librarianship & Justice:
History, Practice & Praxis
Editors: Liam (Kate) Adler, Ian Beilin, and Eamon Tewell
Price: $35.00
Published: October 2018
ISBN: 978-1-63400-051-2
Printed on acid-free paper
322 pages
Reference work often receives short shrift in the contemporary discourse and practice of librarianship. Reference Librarianship & Justice: History, Practice & Praxis highlights the unique position of reference librarianship, a liminal and dialectical space, potentially distinct from the power dynamics of classroom instruction and singular in its mission and practice. At heart, reference is a conversation and partnership. The stakes are significant, not only because of the unique potential for social justice work but because of the risk that the profession is now overlooking reference's central importance. This book makes a passionate case for reference work in a manner that is historically, socially and politically compelling.
The book's three sections explore the praxis, history and practice of reference librarianship in the context of social justice. Praxis grounds us theoretically while seeking to trouble and broaden traditional academic conventions, drawing on diverse epistemological frameworks and disciplines both inside and outside of LIS literatures. History grounds us in the past and makes the case that reference librarianship has a long tradition of social justice work, providing intellectual access, partnership and guidance from the Jim Crow South to the War on Poverty. Finally, Dispatches from the Field explores the contemporary practice of social-justice oriented reference librarianship, in prisons, in archives and beyond. We see how the rich genealogy of social justice in reference librarianship is at work today.
Liam (Kate) Adler is the Director of Library Services at Metropolitan College of New York. She has a MA in American Studies from the CUNY Graduate Center and an MLIS from Queens College, CUNY. Her professional interests pivot around intersections of critical theory, social justice and librarianship.
Ian Beilin is Humanities Research Services Librarian at Columbia University. He received his MSIS from the University at Albany and his PhD in History from Columbia University. He has published and presented on topics in critical information literacy, neoliberalism in the academy, and modern German history.
Eamon Tewell is Reference & Instruction Librarian at Long Island University, Brooklyn. He received his MLIS from Drexel University and his MA in Media Studies from LIU Brooklyn. Eamon has published and presented on the topics of critical information literacy, popular media and active learning in library instruction, and televisual representations of libraries.
This book is available from Amazon.com.
Contents
Preface: Leaky Ceilings, Staplers, and Nazis: Collocating Reference Work and Social Justice
Maria Accardi
Introduction
Liam (Kate) Adler, Ian Beilin, and Eamon Tewell
Introduction: Reference and Justice, Past and Present
Ian Beilin
Urban Information Specialists and Interpreters: An emerging radical vision of reference for the people, 1967-1973
Haruko Yamauchi
Unbound: Recollections of Librarians During Martial Law in the Philippines
Iyra S. Buenrosto and Johann Frederick A. Cabbab
"I Did What I Was Told to Do": Ukrainian Reference Librarianship and Responding to Volatile Expectations
Megan Browndorf
Social Justice and Birmingham Collecting Institutions: Education, Research and Reference Librarianship
Jeff Hirschy
Towards a Critical (Affective) Reference Practice: Emotional, Intellectual and Social Justice
Kate Adler
2596 Girls School Road: The Indiana WomenÕs Prison Far-Away Reference Desk
Joshua Finnell
Reference Behind Bars: Information Needs, Rights, and Empowerment of Inmates
Hannah Lee and Danielle Ball
Reference by Mail to Incarcerated People
Emily Jacobson
Dispatches from the Field of Prison Librarianship
Erin Rivero, Marisa Hernandez, Stephanie Osorio, Vanessa Villarreal
The Case for Data Reference in Public Libraries
Julia Marden
Hiding in Plain Sight: Reference Archivists as Social Justice Actors
Rachael Dreyer
Beyond Efficient Answers with a Smile: Seeking Critical Reference Praxis
Eamon Tewell
From Interpersonal to Intersubjective: Relational theory and mutuality in reference
Veronica I. Arellano-Douglas
Social Justice, Sentipensante Pedagogy, and Collaboration: The Role of Research Consultations in Developing Critical Communities
Carrie Forbes and Jenny Bowers
A Blueprint on Self-Exploration to Justice: Introduction to "Referencing Audre Lorde" & "Lesbian Librarianship for All"
Shawn(ta) Smith-Cruz
Referencing Audre Lorde
Shawn(ta) Smith-Cruz
Lesbian Librarianship for All: A Manifesto
Shawn(ta) Smith-Cruz
Author Biographies
Index