NEW: Feminists Among Us: Resistance and Advocacy in Library Leadership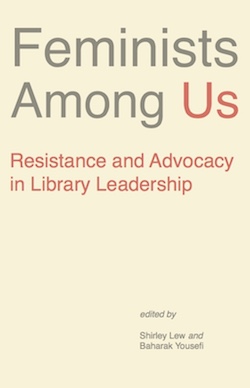 Feminists Among Us: Resistance and Advocacy in Library Leadership
Editors: Shirley Lew and Baharak Yousefi
Price: $22.00
Published: October 2017
ISBN: 978-1-63400-027-7
Number nine in the Litwin Books Series on Gender and Sexuality in Information Studies, Emily Drabinski, Series Editor
Feminists Among Us: Resistance and Advocacy in Library Leadership makes explicit the ways in which a grounding in feminist theory and practice impacts the work of library administrators who identify as feminists.
Recent scholarship by LIS researchers and practitioners on the intersections of gender with sexuality, race, class, and other social categories within libraries and other information environments have highlighted the need and desire of this community to engage with these concepts both in theory and praxis.
Feminists Among Us adds to this conversation by focusing on a subset of feminist LIS professionals and researchers in leadership roles who engage critically with both management work and librarianship. By collecting these often implicit professional acts, interactions, and dynamics and naming them as explicitly feminist, these accounts both document aspects of an existing community of practice as well as invite fellow feminists, advocates, and resisters to consider library leadership as a career path.
About the Editors
Shirley Lew is Dean, Library, Teaching & Learning Services at Vancouver Community College. She is Past-President of the BC Book Prizes, Director on the Vancouver Writers Fest Board, and an active member in professional and literary arts communities for fifteen years. She has a Bachelor of Arts in Human Geography and Master of Library and Information Studies.
Baharak Yousefi is Head of Library Communications at Simon Fraser University and a Director on the Board of the BC Libraries Cooperative. She received a Master of Arts in Women's Studies in 2003 and a Master of Library and Information Studies in 2007. She lives on the unceded traditional lands of the Musqueam, Skwxwu7mesh, and Tsleil-Waututh people in Vancouver, BC.
This book is now available on Amazon.