Piracy: Leakages from Modernity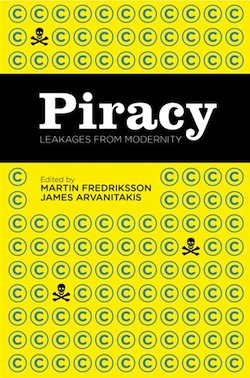 Piracy: Leakages from Modernity
Editors: Martin Fredriksson and James Arvanitakis
Price: $40.00
Published: July 2014
ISBN: 978-1-936117-59-8
Printed on acid-free paper
"Piracy" is a concept that seems everywhere in the contemporary world. From the big screen with the dashing Jack Sparrow, to the dangers off the coast of Somalia; from the claims by the Motion Picture Association of America that piracy funds terrorism, to the political impact of pirate parties in countries like Sweden and Germany. While the spread of piracy provokes responses from the shipping and copyright industries, the reverse is also true: for every new development in capitalist technologies, some sort of "piracy" moment emerges.
This is maybe most obvious in the current ideologisation of Internet piracy where the rapid spread of so called Pirate Parties is developing into a kind of global political movement. While the pirates of Somalia seem a long way removed from Internet pirates illegally downloading the latest music hit or, it is the assertion of this book that such developments indicate a complex interplay between capital flows and relations, late modernity, property rights and spaces of contestation. That is, piracy seems to emerge at specific nodes in capitalist relations that create both blockages and leaks between different social actors.
These various aspects of piracy form the focus for this book, entitled Piracy: Leakages from Modernity. It is meant to be a collection of texts that takes a broad perspective on piracy and attempts to capture the multidimensional impacts of piracy on capitalist society today. The book is edited by James Arvanitakis at the University of Western Sydney and Martin Fredriksson at Linköping University, Sweden.
Table of Contents
List of Acronyms
Introduction
Martin Fredriksson and James Arvanitakis
Part I – Ontology
The Pirate Imaginary and the Potential of the Authorial Pirate
James Meese
To Name a Thief: Constructing the Deviant Pirate
Virginia Crisp
"You Can't Change Our Ancestors Without Our Permission": Cultural Perspectives on Biopiracy
Daniel F. Robinson, Danielle Drozdzewski and Louise Kiddell
Piratical Community and the Digital Age: The Structural Racialization of Piracy in European Law and Culture
Sonja Schillings
Part II – Politics
Modernity, Law and the Violence of Piracy, Property and the State
Sean Johnson Andrews
'Pirates' in EU's (Semi)Peripheries: A Comparative Case Study on the Perceptions of Poles and Greeks on Digital File-sharing
Yiannis Mylonas
The IPR GPR: The Emergence of a Global Prohibition Regime to Regulate Intellectual Property Infringement
Lucas Logan
BitTorrent: Stealing or Sharing Culture? A Discussion of the Pirate Bay Case and the Documentaries 'Steal this Film' I & II
Ekin Gündüz Özdemírcí
The Internet Between Politics and the Political: The Birth of the Pirate Party
Mariacristina Sciannamblo
Cultural Resistance or Corporate Assistance: Disenchanting the Anti-Capitalist Myth of Digital Piracy
You Jie
Part III – Practices
The Justification of Piracy: Differences in Conceptualization and Argumentation Between Active Uploaders and Other File-sharers
Jonas Andersson and Stefan Larsson
Set the Fox to Watch the Geese: Voluntary IP Regimes in Piratical File-sharing Communities
Balázs Bodó
Pirate Economies and the Production of Smooth Spaces
Pavlos Hatzopoulos and Nelli Kambouri
The Collaborative Production of Amateur Subtitles for Pirated TV shows in Brazil
Vanessa Mendes Moreira De Sa
After Piracy: Reflections of Industrial Designers in Taiwan on Sustainable Innovation
Yi-Chieh Jessica Lin
Piracy is Normal, Piracy is Boring: Systemic Disruption as Everyday Life
Francesca da Rimini and Jonathan Marshall
An Epilogue – Privacy is Theft: On Anonymous Experiences, Infrastructural Politics and Accidental Encounters
Ned Rossiter and Soenke Zehle
Author biographies