Virtual book launch of Re-making the Library Makerspace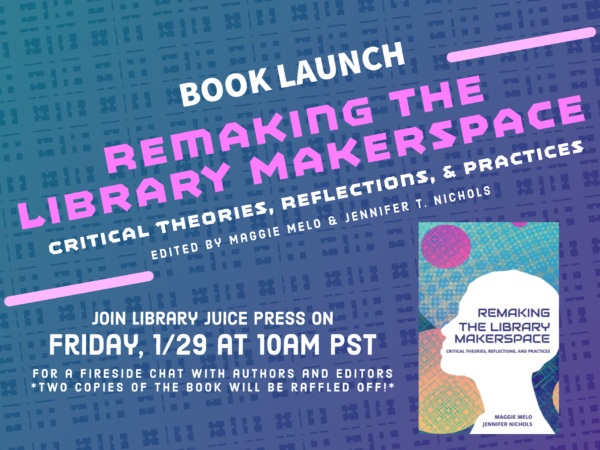 Please join us for the (virtual) book launch of Re-making the Library Makerspace Critical Theories, Reflections, and Practices, from Library Juice Press, edited by Jennifer T. Nichols and Maggie Melo. The volume offers chapters that acknowledge power and structural inequity, reflect on moving forward toward social justice, and celebrate successes and progress. The four sections of the book include the following:
Who Belongs in the Makerspace? Power and Critical Theories
Movement, Empathy, and Inclusion in Youth Makerspaces
Counternarratives
Re-imagined Makerspaces: Policies, Procedures, and Culture 
We invite you to join us for a thoughtful discussion with chapter authors about the content and structure of the book, as well as a timely conversation of the impacts of COVID-19 on current makerspace practice.
When: Jan 29, 2021
10am PST/1pm EST
To celebrate the book's launch, we will raffle two copies of the book during the event.
Register in advance for this webinar:
https://libraryjuice.zoom.us/webinar/register/WN_8HdDfX7jTMCyqtrBmAC5BA
After registering, you will receive a confirmation email containing information about joining the webinar.