New from LJP: Barbarians at the Gates of the Public Library
New from Library Juice Press: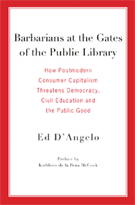 Barbarians at the Gates of the Public Library:
How Postmodern Consumer Capitalism Threatens Democracy, Civil Education and the Public Good
By Ed D'Angelo
November 2006.
139. paperback. $18
ISBN 978-0-9778617-1-2
Barbarians at the Gates of the Public Library is a philosophical and historical analysis of how the rise of consumerism has led to the decline of the original mission of public libraries to sustain and promote democracy through civic education. Through a reading of historical figures such as Plato, Helvetius, Rousseau, and John Stuart Mill, the book shows how democracy and even capitalism were originally believed to depend upon the moral and political education that public libraries (and other institutions of rational public discourse) could provide. But as capitalism developed in the 20th century it evolved into a postmodern consumerism that replaced democracy with consumerism and education with entertainment. Public libraries have mistakenly tried to remain relevant by shadowing the rise of consumerism, but have instead contributed to the rise of a new barbarism and the decline of democracy.
Praise from Henry Giroux:
"We live in dangerous times as a relentless war is being waged by market fundamentalists, political extremists, and religious zealots against all those public spheres guided by democratic values and ideals. Ed D'Angelo's book is a brilliant recounting of public memory and a spirited defense of one of the nation's most important public goods, the public library. Barbarians at the Gates of the Public Library is a riveting example of the language of critique and recovery, critical engagement and possibility. It is a must read for anyone who takes democracy seriously, is willing to fight for one of the country's most important democratic public spheres, and at the same time learn something about the history and importance of the democratic function of public libraries in America. Everyone should read this book."
Order Barbarians at the Gates of the Public Library through your book jobber or buy it from Amazon or Barnes and Noble.
Contact:
Rory Litwin
Library Juice Press, LLC
rory@llibraryjuicepress.com