Zoia Horn has passed on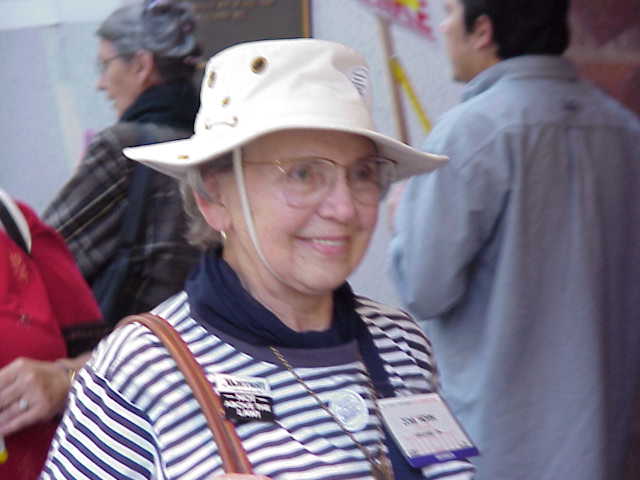 I have just learned that Zoia Horn died on July 12th. She has been an inspiration to me from the time I was in library school in the late 90s. I was inspired by her memoirs and later by her personally when I visited her Berkeley. (I have just found out that her memoirs, ZOIA! Memoirs of Zoia Horn, Battler for the People's Right to Know, are online in full text at Archive.org.)
This announcement of her 2002 Jackie Eubanks Memorial Award goes into some nice biographical detail. Besides the Jackie Eubanks Award, which was given by the Alternatives in Print Task Force of SRRT, she also received the 2002 Robert B. Downs Intellectual Freedom Award, given by the UIUC GSLIS. Here is part of the announcement of that award:
Thirty years ago, when Zoia Horn was subpoenaed to appear at the trial of the "Harrisburg Seven," she refused to testify, was found in contempt of court, and jailed for three weeks. This jail sentence effectively ended her library career, but she used her information skills in her work for both the Center for Investigative Reporting and DataCenter, both of Oakland, CA. She has also remained active in intellectual freedom issues over the years, chairing the Intellectual Freedom Committees of ALA, New Jersey Library Association, and the California Library Association, sponsoring resolutions affirming the confidentiality of the relationship between libraries and their users. In 1986, Horn brought her Right to Know project from DataCenter to ALA, who then formed the Coalition on Government Information, a group of about 50 organizations that are interested in stemming the trend toward less public access to government information.
The California Library Association gives an annual Intellectual Freedom Award named in her honor.
When someone dies, I always find it less tragic when that person has lived to a ripe old age and had a full life. Zoia was 96 years old when she passed on. That is old; she did not die before her time. I want to take this occasion to honor and celebrate her life.
One last link – this article from the Berkeley Daily Planet in 2004: Zoia Horn Takes Pride in Provoking.
Zoia, thank you for all that you did.
(The photo above taken by me at the protest of the SF Marriott during the 2001 ALA conference. It was an informational picket for the workers who were fighting for a contract.)